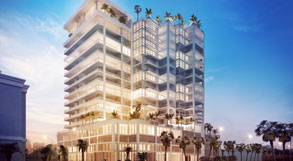 THE BLVD SARASOTA, LLC:
The BLVD SARASOTA, LLC, is a 49 unit luxury condominium project in an 18-story building, with an 6,000 square foot restaurant on the ground floor, located on the southeast corner of Tamiami Trail and Boulevard of the Arts in Sarasota, Florida. Site plan approval is in process with administrative approval anticipated in April-May of 2017. Construction plans are schedule for completion in June 2017. The virtual reality sales center on the site is now open for pre-sale reservations. Cotton & Company is the marketing company and Imerza is providing virtual reality software for the sales effort.

In addition to extensive real estate development experience throughout the United States, Kevin F. Daves, President of Core Development, Inc. is a registered Architect, member of AIA, and president of his own architectural design firm, KDA Architects, Inc. located in Wichita, Kansas.
Mr. Daves has owned his own practice since 1983 and has been involved in every area of design, from additions and renovations, to new construction, health care and historic restoration.